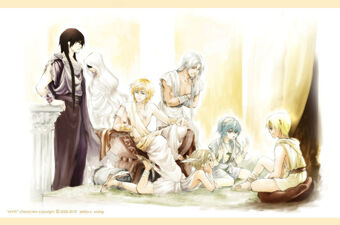 Welcome to the Greek mythology Wiki
Edit
This wiki is related to my fanfiction Saint Seiya: Penultimate War and The Azul Flame (in progress).
If you wish to read the story, please check Einstein's mistakes on Fanfiction.net and check it out.
Describe your topicSaint SeiyaEdit
Saint Seiya: Knights of the Zodiac or simply Knights of the Zodiac, is a Japanese Manga Series written and illustrated by Masami Kuramada and serialized in Weekly Shounen Jump from 1986 to 1990 and adapted into an Anime TV Series by Toel Animation from 1986 to 1989.
Saint Seiya also known as
The story follows five mystical warriors called the "Saints" who fight wearing sacred armors named "Cloths" (聖衣 Kurosu), the designs of which derive from the various Constellations the characters have adopted as their destined guardian symbols, and empowered by a mystical energy called "Cosmo". The Saints have sworn to defend the reincarnation of the Greek goddess Athena in her battle against the other Olympian Gods who want to dominate Earth.
Latest activity
Edit